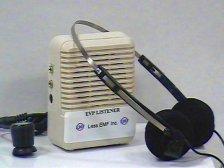 Evp Listener
This is an item i'm sure most have seen on ebay by now, what this does is convert emf and other electrical sources into audible sounds. Now----If the theory is true than if EMF detectors pick up spirit than a microphone for EMF should pick up spirit voices...Right???
I have broken down this by part #'s and it's easily sourced at the local radio shack to test out. I've had this for years now, but haven't experimented enough with it. Here's the part #'s you would need:
44-533 ---Microphone
and
277-1008 ---Amplifier
Headphones are optional.
I have another idea for those with MiniBoxes with a mic jack. Couldn't we plug this $8 microphone into the jack and pick up 50/60hz energy sources while sweeping the AM radio band.


Just something to think about,
-Steve H.
You Are Never Alone In The Paranormal World
Website powered by Network Solutions®